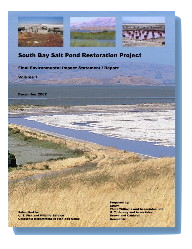 Final Environmental Impact Statement/
Environmental Impact Report—December 2007 download
The 2007 Final Environmental Impact Statement/Report (FEIS/R) for the South Bay Salt Pond Restoration Project evaluates the potential environmental impacts of the Restoration Project. The FEIS/R includes program-level evaluation of the long-term alternative restoration plans as well as project-level analysis of the first phase of restoration (the Phase 1 actions). The FEIS/R also includes responses to comments received on the Draft EIS/R which was issued in March, 2007.
The FEIS/R was prepared jointly by the US Fish and Wildlife Service (Service) and the California Department of Fish and Game (CDFG) in partnership with the California Coastal Conservancy, US Army Corps of Engineers, Santa Clara Valley Water District, and Alameda County Flood Control and Water Conservation District.
---
---
Obtaining the FEIS/R
Download the document in PDF format.
Any questions regarding the Project or the NEPA/CEQA process should be directed to John Bourgeois,
Executive Project Manager, at John.Bourgeois@scc.ca.gov or via the Project website at www.southbayrestoration.org/Question_Comment.html.