Introduction to the Interactive Map Go to map
The interactive map lets you use your web browser to explore the South Bay Salt Pond Restoration Project and surrounding lands. While viewing the map, you can choose from a number of themes: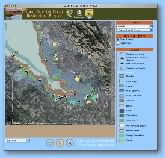 Recreation
Infrastructure and Flood Risk
Wildlife and Habitats
Historical landscape
Jurisdictions
The interactive nature of the map allows you zoom out for a regional overview, or zoom in to inspect a particular pond, slough, or other feature. Detailed aerial photography is available as an optional backdrop.
Notes and Cautions
The data in this map come from a variety of sources, and the degree of accuracy varies. Supporting information for each type of data is displayed by clicking legend items. Depictions in the interactive map are not intended to represent the official position of the Restoration Project regarding boundaries, habitats, or related information. Use caution in drawing any conclusions based on the map.
The interactive map may not work with older browsers. Firefox, Safari, or Internet Explorer 6 are recommended.
A broadband connection to the internet (cable or DSL) is recommended.
While the different data layers are generally closely aligned, the map allows zooming in to a point where alignment inconsistencies may be revealed.
Feedback
We welcome suggestions and comments. Please send your feedback to imap
southbayrestoration.org.
The interactive map was developed at the San Francisco Estuary Institute with funding from the State Coastal Conservancy.