September 2015 Newsletter
Volume 34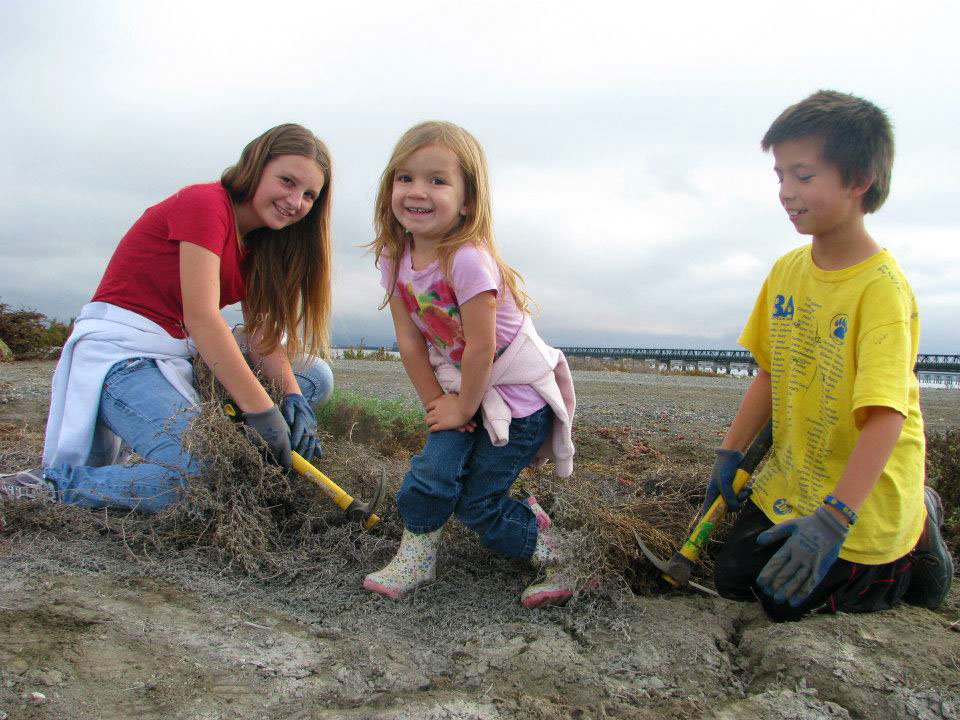 Upcoming Events and Meetings

More events, including volunteer restoration opportunities, are listed on the Events and Meetings section of the project web site.

Meetings

Science Symposium

Computer Science Museum, Mountain View All-day event; specific starting/ending times TBD


The all-day biennial Symposium is an opportunity for scientists and the public to share and learn about the latest research related to the Restoration and its implications for project management. To register, go here. For more information, check the Symposium page on the Project website here.

---
Tours and Volunteer Opportunities

September 2015

Wetlands Walking
Tour - Alviso
Environmental
Education Center, Alviso
Sun, Sep 20
10:30 a.m. - 12:00 p.m.
Our refuge consists of salt marshes, salt ponds, tidal and non-tidal sloughs. How do humans and wildlife depend on our wetlands? Come enjoy a 0.5 mile walk through the wetlands, while be depict the life and death struggles of our marsh inhabitants. Open to all ages but best suited for ages 7 and up. Register at Eventbrite.


---
October 2015

Hike the Mallard
Slough Trial - Alviso
Environmental
Education Center, Alviso
Sat, Oct 3
10:30 a.m. - 12:00 p.m.
Look for birds, mammals, and animal tracks as we explore along the water's edge on this 3.7-mile nature walk. Bring binoculars and your favorite field guide to help enjoy the views. Have at least one liter of water, snacks, and appropriate clothing. This hike runs rain or shine. Led by Steve Stolper. RESERVATIONS REQUIRED. Go to Eventbrite. Questions? Call Julie at 408-262-5513 ext. 104.

---
Endangered Species
Drawing - Alviso
Environmental Education
Center, Alviso
Sat, Oct. 3
1:30 p.m. - 3:00 p.m.
Artist Jan Pitcher knows how important it is to make learning about endangered species fun! Come out and draw some of your favorite animals as we discover ways that we can help. RESERVATIONS REQUIRED. Go to Eventbrite. Questions? Call Julie at 408-262-5513 ext.104.
---
National Wildlife Refuge
Week: Shark Day! - Alviso
Environmental Education
Center, Alviso
Sat, Oct 17
12:00 p.m. - 3:00 p.m.
Come experience one of the wonders of the ocean. It's Shark Day and we have lots of cool things in store including LIVE sharks and a special guest appearance from Sharkie of the San Jose Sharks! Face painting, arts and crafts, and a nature hike are included as well. Don't miss out! No reservations required. If you have questions, call 408-422-7731 ext. 102 or 104.
---
Ohlone in the Marshes:
Tule Boats - Alviso
Environmental Education
Center, Alviso
Sun, Oct 25
1:30 p.m. - 3:00 p.m.
How did the people who lived here 10,000 years ago travel from place to place in the water world that once was San Francisco Bay? By boat, of course. Join us on a short walk to view the raw materials used by the Ohlone in boat making. Then, using natural materials, we will make small replicas of their boats to take home. Very appropriate for children 8 and up who are accompanied by an interested adult participant. Program led by Laura Mello and Aja Yee. Register at Eventbrite.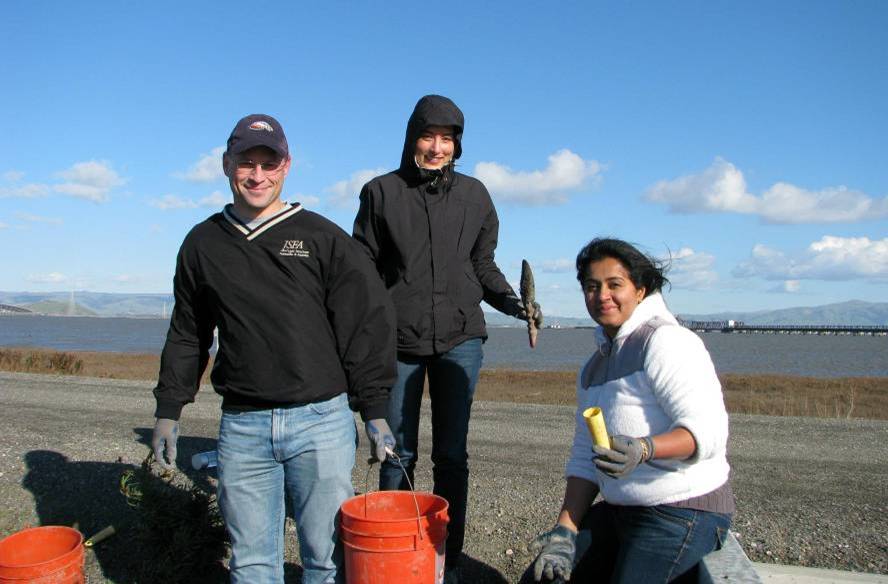 ---
November 2015

Docent Training - Alviso Environmental Education Center, Alviso Sat, Nov 14
1:00 p.m. - 2:00 p.m.
Want to become a volunteer, or update your training? Come to a Salt Pond Restoration Docent Volunteer Training class where Park Ranger Joseph Garcia will teach you the volunteer process and what new changes are taking place within the refuge. Call 510 792-0222 ext. 141.
---
Ohlone in the Marshes:
Fire - Alviso Environmental Education Center, Alviso
Sun, Nov 15
11:00 a.m. - 12:30 p.m.
Do you want to know more about the Native Americans that lived in the Bay Area before us? Come to the refuge to learn about some of the tools and games the Ohlone might have used. Play Ohlone games and take home your own customized staves. Refuge volunteer Roy Sasai will demonstrate how to make fire without using matches or a lighter! Best suited for ages 8 and up. Register at Eventbrite.
---
Crafts in the Outdoors:
Beginning Leatherwork - Alviso Environmental Education Center, Alviso
Sat, Nov 26
10:00 a.m. - 12:00 p.m.
Doing crafts outdoors is a wonderful experience. Make and decorate (tool) a small patch for your backpack or clothing made from vegetable tanned leather. Learn how Bay Area residents used the tanoak tree for food and for making leather. This family- friendly program lets you have fun crafting your own leather item. Bring water, snacks, and appropriate clothing. This program runs rain or shine. Led by Steve Stolper. RESERVATIONS REQUIRED. Go to Eventbrite. Questions? Call Julie at 408-262-5513 ext. 104.
---


Facebook and Twitter Users Can Follow the Salt Pond Restoration!

Want to receive regular updates, interesting trivia and the latest pictures and videos about the South Bay Salt Pond Restoration? Join us on Facebook or follow us on Twitter.

Photo Credits:
Judy Irving,
Ben Young Landis/USGS,
Marilyn Latta,
Steve Martarano/USFWS

View a complete list of our partners, major donors and participants.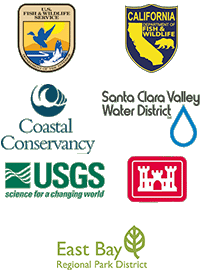 Contents
Momentous Discovery!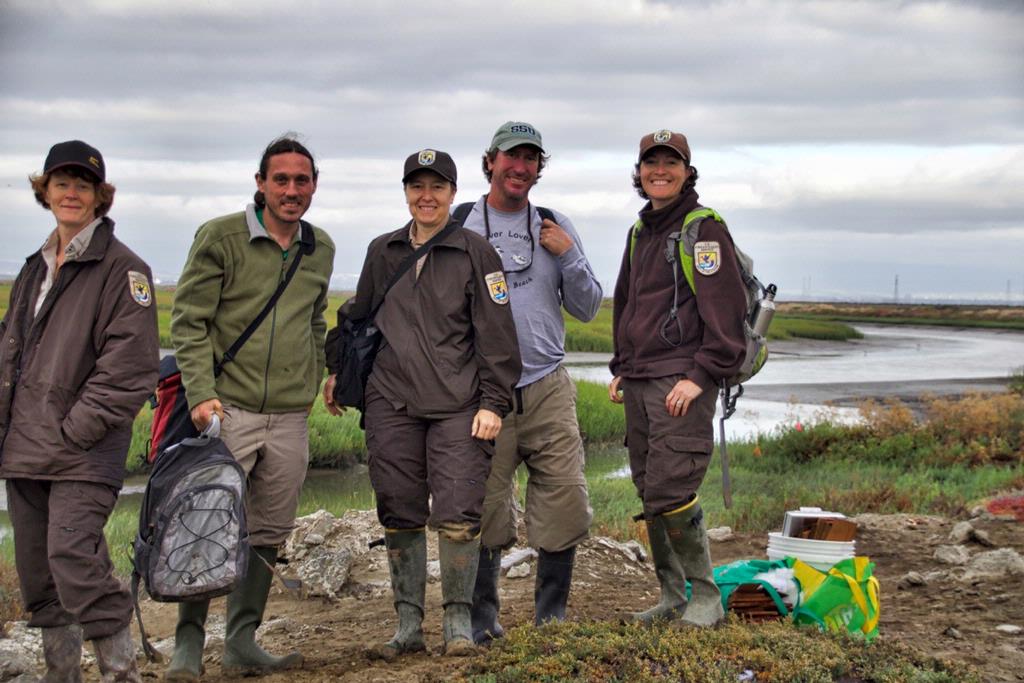 The Project set out 12 years ago to bring wetlands and their endangered inhabitants to the Bay.
We expected it would be many years before the foundation we created would establish itself and grow sufficiently to attract the scarce wildlife.
So this July, we were elated and thankful when biologists discovered, for the first time, not only endangered salt marsh harvest mice at our first restored lands, but also a breeding pair of endangered Ridgway's rails (known until recently as California clapper rails). These are the two species the salt marsh restoration portion of our work is aimed at supporting.
"We always anticipated the return of endangered species into these restored marshes. It's part of the reason we are undertaking this work," says John Bourgeois, the project leader for the State Coastal Conservancy. "However, the speed at which the habitat and wildlife is recovering has been very surprising, even to those of us that do this for a living." The finds were at Pond 21 of the Island Ponds, in the Coyote Creek delta between Milpitas and San Jose. We breached the Island Ponds to Bay waters in 2006.
The first siting of a single Ridgway's rail was reported last summer by a staffer with the State Coastal Conservancy's Invasive Spartina Project.
Then, two months ago, members of the survey team, working for the U.S. Fish and Wildlife Service's Don Edwards San Francisco Bay National Wildlife Refuge, shown grinning in the accompanying photo, heard a rail mating call - indicating a breeding pair. Then, they trapped their first salt marsh harvest mice at the site.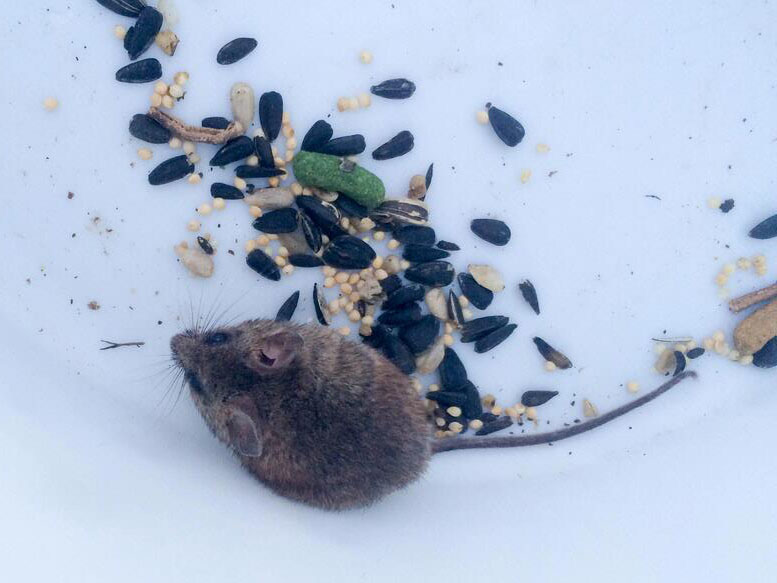 That both Ridgway's rail and salt marsh harvest mice are already moving into the newly created habitat took Refuge staff by surprise.
"Everyone was extremely excited; it was well above our expectations for how quickly this would happen, being less than 10 years since the area was breached," said Refuge wildlife biologist Rachel Tertes, who heads up the survey efforts for the refuge. "This shows that we're accomplishing what we're trying to accomplish, that if we provide habitat, the species will come."
After setting more than 100 live-traps over three nights, biologists caught four salt marsh harvest mice during those first surveys. Biologists caught a total of 63 unique small mammals at A21, including salt marsh harvest mice, Western harvest mice, deer mice and house mice. Refuge biologists had not found any mammals at the pond before the breach, only waterfowl and shorebirds.
Tertes estimates there are at least the two Ridgway's rails on A21, and possibly more. The Service has done breeding season surveys since 2012, but it wasn't until last summer that detection occurred, even though proper habitat and vegetation were in place.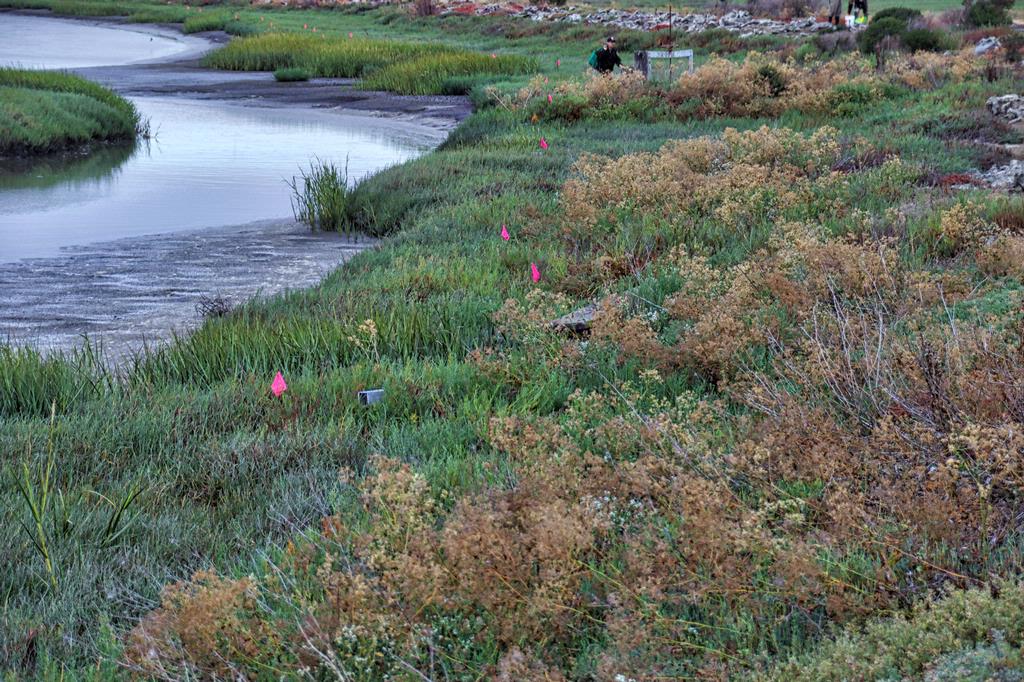 "We were also pleasantly surprised to find deer mice during the recent surveys," Tertes said. "Though deer mice aren't rare, it was exciting for us to find a new species we generally don't catch during our small mammal trapping efforts."
Project researchers from UC Davis have also found a listed fish species at the site: longfin smelt - listed as threatened by the State of California and as candidate for protection by the Service.
The 2006 breach, the first restoration step the Project took, was undertaken by the Refuge in partnership with the Santa Clara Valley Water District, a member of the Restoration Project Management Team. The Water District funded the breach work.
Bourgeois acknowledges that this restoration is part of a larger regional effort. "With more wetland restoration projects happening each year, we are definitely on the path toward a healthier San Francisco Bay."
See San Jose Mercury News coverage of the discoveries here.
To view 2006 news clips of earthmovers tearing the edge of Pond A21 open, go to http://www.southbayrestoration.org/videoaudio/ and scroll down to the bottom, under the heading March 2006 Media Clips. You can choose a Quicktime or Windows Media format to watch the video.
Steve Martarano, USFWS, contributed to this article
---
Sept. 22 Deadline for Draft EIS/R Comments!
You are heartily encouraged to let us know your thoughts on plans for our next phase of Alviso and Ravenswood construction, and the analysis of environmental impacts of those plans, as detailed in the recently published draft environmental impact statement/report (EIS/R).
The deadline to comment is close of business on Tuesday, September 22!
The Phase 2 work we are planning includes breaching ponds to create salt marsh; building nesting islands; adding fill so marsh animals can escape to high ground; installing trails, footbridges, viewing platforms and interpretive signs; and, at one set of ponds, allowing for flood storage for nearby runoff.
The EIS/R document can be downloaded from the Project website at http://www.southbayrestoration.org/planning/phase2/downloads.html. Details, including locations to view a hard copy of the EIS/R, are on the Project website at http://www.southbayrestoration.org/planning/phase2/.
Please Send Comments to:
Email: phase2comments@southbayrestoration.org
Website: Brief comments can be submitted through the website at www.southbayrestoration.org/Question_Comment.html

Regular mail:
Brenda Buxton, Project Manager
State Coastal Conservancy
1330 Broadway, 13th Floor
Oakland, CA, 94612

Contacts for More Information:
For general questions about the meeting, how to review the draft document or how to submit comments:
For questions about the document content or the NEPA/CEQA process:
Note: This environmental report does not cover the same content as a draft environmental report released in December 2014 for our sister project, the South San Francisco Bay Shoreline Study. It is coincidental that the two draft environmental analyses were completed within the same timeframe. The Shoreline Study project includes additional restoration beyond our Phase 2 plans, and includes a major focus on flood risk management, including the development of levees to protect the Alviso area from sea level rise.
---
Registration Now Open for Oct. 22 Science Symposium
Members of the public may now register to attend the Restoration Project's biennial Science Symposium, to be held October 22 at the Computer History Museum in Mountain View.
To register for the all-day event, go to http://www.eventbrite.com/e/2015-science-symposium-for-the-south-bay-salt-pond-restoration-project-registration-18121353456.
To review the draft agenda and other Symposium information, go to http://www.southbayrestoration.org/science/2015symposium/index.html.
Symposium attendance is free, but you will need a ticket to enter. Registration allows us to plan for seating and refreshments. The ticket does not cover entrance to exhibits at the Museum.
We are still working to finalize a window for setting up and checking the AV, and so are not able to provide exact starting and ending times yet for the event. We will update registrants as soon as we have final times.
---
Shoreline Study Passes Critical Milestone
The South San Francisco Bay Shoreline Study achieved a major milestone on Sept. 11 when it passed muster with the U.S. Army Corps of Engineers Civil Works Review Board in Washington DC. This is considered to be a critical step in the Army Corps Headquarters approval process for the Project.
The Shoreline Study project includes 4 miles of levees to protect the community of Alviso and the San Jose-Santa Clara regional wastewater facility from coastal flooding and sea level rise, as well as almost 3000 acres of wetlands restoration and construction of refuge habitat for wildlife to escape rising tides, and expanded public trails.
The project is a partnership of the Santa Clara Valley Water District, the State Coastal Conservancy and the Army Corps.
Once the Army Corps has finalized it later this year, the Shoreline Study would go to Congress for authorization and appropriation of the federal portion of funding. Construction could begin in 2017 at the earliest.
---
August 4 Stakeholder Forum Meeting & Tour an Opportunity for Dialogue
More than 60 people gathered August 4 for our periodic meeting of the Project Stakeholder Forum and regional Working Groups.
The day began with a tour a Menlo Park site, ponds R5 and S5, where Project managers are considering changes to improve shorebird habitat and public access, and possibly to serve stormwater retention needs of neighboring communities.
At the meeting that followed, managers shared updates on projects and plans, and heard a variety of stakeholder perspectives that will help to inform future planning.
Click here to view the meeting presentations and meeting summary.
---
Faces of the Restoration: Russ Robinson & Alviso Boating History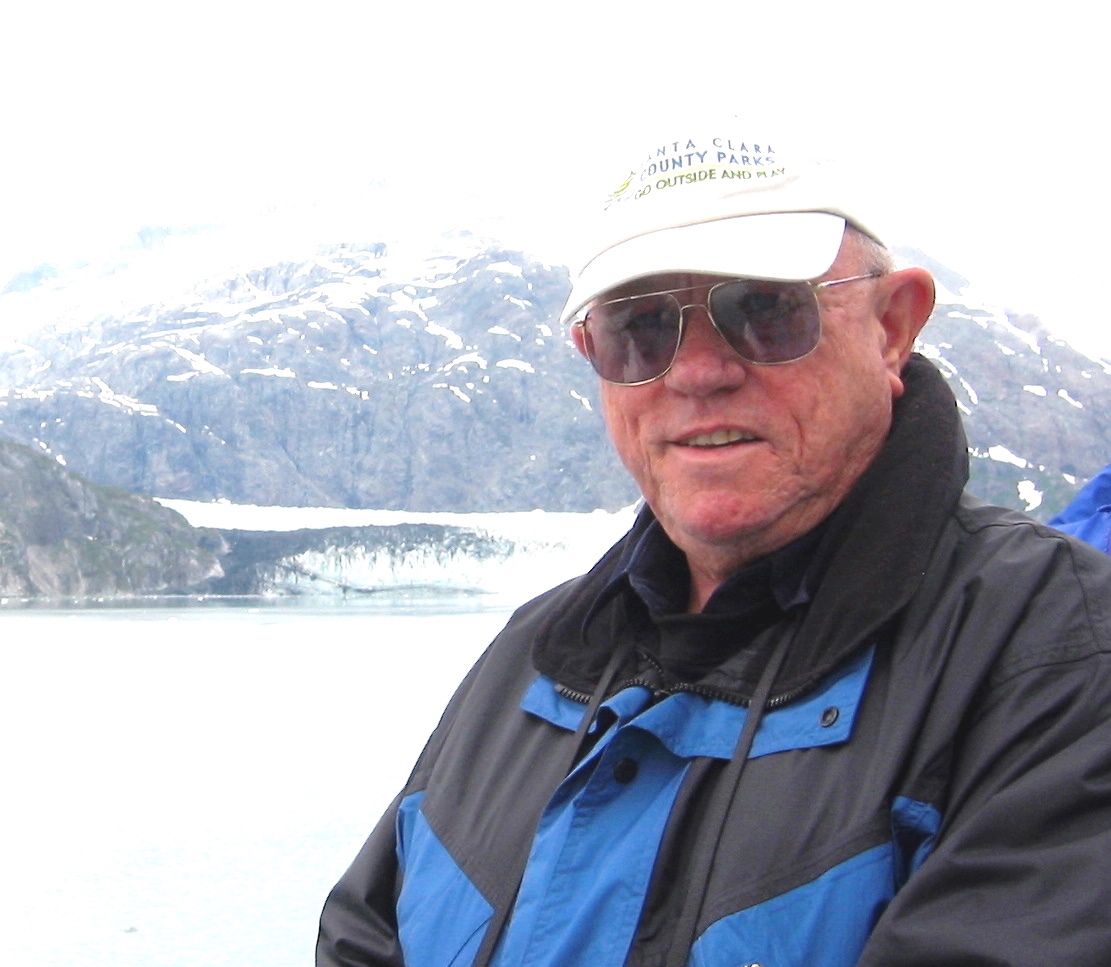 Russ Robinson of the South Bay Yacht Club and Recreational Boaters of California shares old-time photos and tales of the history of boating in Alviso, before mud clogged up the channels and sloughs, and talks about San Jose-area boaters' hopes for the future.

Russ Robinson has been active on behalf of boaters and the boating needs of Alviso for many years. The Cupertino resident is a longtime member and 1978 Commodore of the South Bay Yacht Club, Alviso's venerable boating organization founded in 1888. He helped protect the yacht club'sd historic structure when it was moved to new ground in 1982 as part of a government river channel realignment project. Among a number of accomplishments, he worked to develop a compromise to keep boaters on the water at Santa Clara County lakes in the midst of efforts to stem pollution from the MTBE gasoline additive; his compromise became a model for others in California and earned him a national award, the BoatUS Foundation Environmental Leadership Award, in 2008. He also received the Santa Clara Valley Water District's Environmental Stewardship Award 2000. He worked in Sacramento to get state funding for the Alviso Marina County Park, which opened in 2010 and reestablished a San Jose boating link with the Bay. And recently, he teamed with historians to install a plaque at the Alviso Marina commemorating the loss of many lives in the 1853 Jenny Lind ferryboat accident. He represents the Recreational Boaters of California on the Project's Stakeholder Forum.
Can you tell us a little about the history of boating in Alviso?

The harbor in Alviso was visited by sailing ships supplying the Santa Clara Mission in the late 1700s. The book Two Years before the Mast by Richard Henry Dana, Jr., talks about it.

They brought hides all the way around the horn to the East Coast, where they were made into leather goods. Before the Gold Rush, in 1850, there was a good-sized operation at that port bringing goods up to San Francisco. There were no trains, and the roads were very difficult to traverse.



In the 1900s, there were a lot of boats out there. In old photos, you'll see the Slough filled with boats. They worked from a dock at the Yacht Club. The US Secretary of War granted rights to the South Bay Yacht Club to build a wharf in 1905. In the 1920s, the Yacht Club built some docks across the Slough, and they would reach them on scull boats.

The Santa Clara Valley Water District, when they straightened out the Guadalupe River in the mid-'60s, they required us to move that little harbor across the channel. The Yacht Club moved and built the dock. We built the docks, but the channel started filling in. There is a theory that a meandering channel scours out the channel. When they took out the meander, the channel started filling up.

Currently, you can't get boats in and out except through extremely high tides. We are still looking for another solution, at building another dock more in the center of the channel.

We still have three shrimpers that operate out of the South Bay Yacht Club, they go out and get grass shrimp. There is a big market - it's considered a delicacy in some foreign countries, and the shrimp are also used for fishing. The shrimpers watch the tides, and they can come in and out twice a day. If the channels deepen, they'd be better off.

Alviso would like to see more boating access to the South Bay. The Alviso Marina has been a great success [it includes boat launch ramps and floating docks]. Alviso would like to see a boating harbor again. The community would like to see the channel cleaned out more, brought to the 1950s level. It would be very helpful if there were some sheriffs' boats and rescue boats there at all times.

Just imagine if you are flying over the Bay, and you have plane trouble - you'd have to land your plane out there in the Bay. They would have to bring rescue boats from Redwood City or something. It's just not a good thing to not have a quick response. I think even Santa Clara County Supervisor Dave Cortese wants more public access to the waterways, for people to get out and see what's happening in the Bay. A tour operation, like they have in Elkhorn Slough, with pontoon boats, where people can see things. Dave has gotten sheriffs' boats out here. In the first event he set up, they took kids from George Mayne Elementary School, put lifejackets on them and took them out. They could see the harbor seals out on the beaches, and the waterfowl. Because, they live there, but they don't know what's nearby. Like Gertrude Stein said, there's no there there, for them.


What are your thoughts on the Restoration Project?

The South Bay Salt Pond project has made a lot of changes. When they breach the levees, it allows a lot more salt water to come up from the Bay into the channels. This has been positive for all of us, including the wildlife - that's been a positive for all of us. The waterfowl used to settle on the brine. Now they've got ponds, and there's more food for the fowl, and for the diving ducks. All of the fishermen and hunters feel the pond restoration has been a huge success.

We worked hard to put together the A8 weir plan [Pond A8 near Alviso has a set of gates the Project is gradually opening to begin connecting the pond with the Bay with the goal of limiting the recirculation of mercury that lies in the pond sediments]. The idea was, if you open the weir gates, the salt water would come in and kill off the freshwater plants that are choking the channel, and then scour the channel.


How did you first get involved in the Restoration?

I volunteered to be the representative for the boaters when the project started. I was trying to make sure that boaters' access was maintained. There was a lot of talk about limiting it completely. Environmentalists said they didn't want any boaters to disturb the wildlife. Some people were saying that boats would not be allowed in the ponds once they were breached. We wanted to make sure all boaters had access out there, including the kayakers. We have hunters who need to use boats. They were talking about eliminating hunting. I was advocating that hunting be maintained.


Tell us about your boats

I had sailboats. I had one boat that I kept at the South Bay Yacht Club, a powerboat. I had to move that because the Slough was filling up with mud. I kept a sailboat there, and then had the same problem. I had a Catalina 36 - I kept it 22 years in Oakland. Since then, I've had knee and back surgery and haven't been able to boat the way I used to.


How do you like to enjoy yourself?

My wife and I bought a land yacht - a fifth wheel trailer. We've been to Alaska two times [site of his photo]; we have been to all the provinces in Canada except two; we've been to Newfoundland - that was an adventure, we had to take a ferry. We've traveled all over the US, and we've been to Mexico.


For more on Alviso and its history:
---

Salt Pond Restoration in the News and on the Ground!

A compendium of recent media coverage

The San Jose Mercury News explores our recent discovery of endangered salt marsh harvest mice and Ridgway's rails on habitat restored in the past decade: Article

Other items:
Santa Clara Valley Water District Director Richard Santos discusses the District's flood protection and habitat restoration efforts: Article
Mercury News article on the ramifications of the dried-up Guadalupe River: Article
---