Adaptive Management in Action: What We Learned, and How We Adapted
Researchers now have new insights on sedimentation rates, mercury contamination, management of ponds for waterbirds, and bird use of constructed habitat features such as nesting islands.  These findings are changing how Project managers think about tidal marsh restoration and pond management moving forward.
May 2, 2014
Phase 1 Studies on Nesting Birds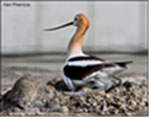 What We Learned: Islands within managed ponds are important nesting habitat for many locally-breeding waterbird species, including Forster's terns and American avocets. Therefore, one early research objective was to assess which kinds of islands are conducive to bird breeding, and how birds are responding to constructed islands.
In Pond SF2, the Project constructed 30 islands -- half with linear shapes and half with round shapes. Pond SF2 was opened to bay waters in September of 2010.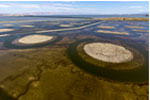 Cracking of Islands at SF2, photo by Cheryl Strong
Several waterbird species nested on 28 of these islands in Spring of 2011. However, USGS scientists Alex Hartman, Josh Ackerman, and Mark Herzog reported that some chicks were lost in the cracks that formed as the bay mud dried (see their 2013 Symposium presentation, "Factors Influencing Breeding Waterbird Use of Islands in San Francisco Bay").
A "Marsh Master" vehicle was brought in to rough up the surface and flatten out cracks on a few islands prior to the 2012 nesting season. Unfortunately, due to the previous surface cracking and other factors, birds only used  2 of the 28 islands used for nesting in Spring of 2012 (Ackerman and SFBBO).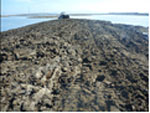 Marsh Master reworking the island surface, photo by Cheryl Strong
How We Adapted:  The Marsh Master was used to flatten cracks on the remaining islands at SF2 in 2013, and restoration managers have redesigned the constructed islands at a subsequent project (Pond A16) in order to minimize cracking. 
Preliminary analysis of use of islands by nesting birds has found that there is greater nest abundance on small to medium sized islands, favoring linear-shaped islands compared to round ones.  Researchers are recommending placing a few islands in each pond, rather than several islands across a few ponds.  These recommendations will be used in future phases of the design of managed ponds.
Managers are also working to enhance and maintain existing islands.  New islands in Ponds E12/E13 are linear and smaller than islands previously built. Also, a pilot study will determine which kind of surface treatment (shell, gravel, or gypsum) should be used on the constructed islands to minimize cracking.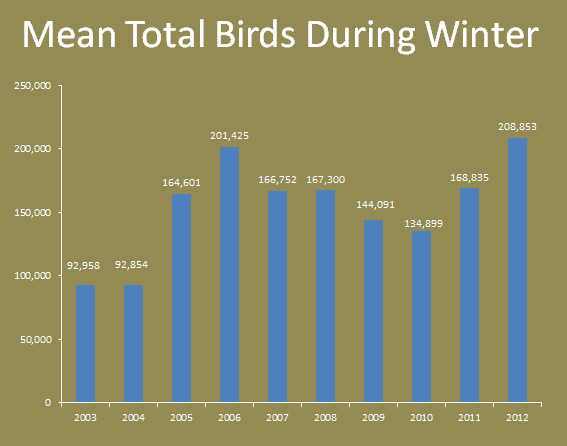 Data and graph from John Takekawa
Graphic courtesy of Lacy Smith, USGS
Phase 1 Studies on Wintering Birds
What We Learned: Monthly bird surveys have been conducted since 2003 to see how birds have responded to changes in habitat.  USGS scientists John Takekawa, Lacy Smith, Stacy Moskal, and Sara Piotter report that total wintering waterbird numbers have grown from less than 100,000 in 2003 to more than 200,000 in 2012.  The birds appear to respond quickly to changes in water depth and salinity in these ponds (see their 2013 Symposium presentation "Waterbird Response to Pond Management").
How We Adapted:  A Pond Management Working Group, comprising bird researchers and managers, is meeting monthly to discuss ways to optimize pond management for more than 40 species of birds during spring and fall migrations, planning for both nesting and wintering months.
Wintering birds use islands for roosting, although to a lesser extent than breeding birds.   Research indicated wintering birds, particularly shorebirds, are attracted to shallow water depths. So in the design of features of Pond E23/E13, managers have included shallow mounds and swales to attract roosting and foraging birds.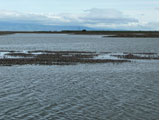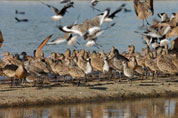 1st photo Stacy Moskal
2nd photo by Pelican Media
Phase 1 Studies on Bird Foraging Habitat
What We Learned: The USGS team led by John Takekawa had conducted high-tide bird surveys of all the ponds from 2003 to 2013, including intensive observations at SF2 islands. One interesting observation during these surveys was that shorebirds often congregated on shallow mounds of dirt — unintentionally created by the earth-moving equipment and leftover from the pond construction.
How We Adapted: Based on this observation, restoration managers are testing dirt mound designs at Ponds E12/E13. A series of channels snake through the dry ground, alongside sausage-shaped dirt mounds — both constructed to mimic the terrain favored by the shorebirds.  Other studies are starting in the ponds to look at the bird response to varying levels of water salinity, the response of their invertebrate prey to changing salinities, the bird use of the shallow mounds for foraging, and bird use of higher islands as nesting habitat.
Phase 1 Studies on Sediment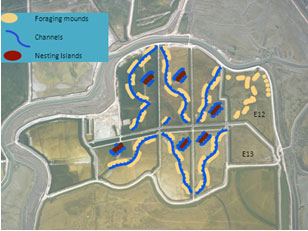 Graphic courtesy of Lacy Smith
What We Learned: For the restored tidal marshes to establish and be self-sustaining over time, a certain amount of sediment must be available in the Bay waters. A USGS team led by David Schoellhamer has been monitoring the sediment flux of South San Francisco Bay, and found that flux to be very variable from 2009 to 2011. Notably, there was a large net sediment flux out of South Bay in 2011 (see their 2013 Symposium presentation "Does Central Valley Runoff Control Sediment Supply to South San Francisco Bay?").  Other studies by these researchers indicate that overall sediment supply to the San Francisco Bay started decreasing in the late 1990s and will continue to do so in the future (Marine Geology publication).

Graphic courtesy of Greg Shellenbarger, USGS
Positive values indicate sediment flux out of South Bay, negative values indicate sediment flux into South Bay. Graphic courtesy of Greg Shellenbarger
But interestingly, during that same time period, John Callaway of University of San Francisco showed very high sediment accumulation in Pond A6-- and this pond had only been re-opened to natural tidal flow for a few months (see the report "Sediment Dynamics and Vegetation Recruitment in Newly Restored Salt Ponds: Final Report for Pond A6 Sediment Study").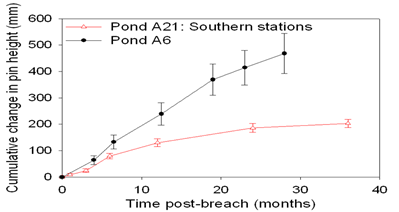 Graphic courtesy of John Callaway
How We Adapted: Research that suggests sediment supply to the South San Francisco Bay might diminish in the future, and there it might be a challenge to accelerate marsh development to match the rate of future sea level rise. Restoration managers are now investigating effective and safe materials to augment natural sediments in tidal marsh restorations. Dredge material is being evaluated, but may be logistically impractical to transport to South Bay sites. 
Researchers have also convened a Mudflat Working Group to discuss cost-effective methods for monitoring mudflat and sediment accumulation as the restoration progresses.
Phase 1 Studies on Mercury
What We Learned: One major uncertainty of the restoration effort has been mercury contamination. Due to historic mercury mining and use from more than a century ago, San Francisco Bay has varying concentrations of mercury locked within its sediments. Through construction activities and natural sediment processes, the restoration has the possibility of releasing some of this mercury source. Naturally, Project managers hope to continue the tidal wetland restoration while minimizing mercury exposure to the very same birds and fish we hope to lure back to the restored habitat.
A major Phase 1 study was the "notch opening" at the 1440-acre Pond A8/A7/A5 complex. Restoration managers built a 40-foot adjustable notch between Pond A8 and Alviso Slough, to control the amount of tidal flow between sites, and study the response in mercury exposure. Construction on the notch was completed and opened for the first time on June 1, 2011. USGS researchers collected fish, water, and bird egg data prior to the opening and compared with trends after the notch opening.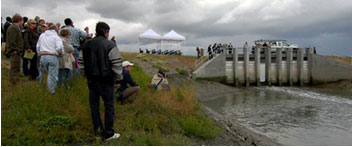 Photo courtesy of Pelican Media
Findings from USGS and University of California, Davis scientists found that in Pond A5/A7/A8, mercury levels in fish initially increased, but then decreased. The trend suggests that fish became exposed to high amounts of mercury during the notch construction process and initial flood-up, a phenomenon often seen in initial flooding of reservoirs and wetlands.  Initially upon opening the notch, mercury in fish in the slough receiving waters increase, but then decreased within a few months. 
The mercury response in waterbirds was variable. Terns showed higher mercury levels, while avocets showed little change. It is possible that a single nesting season was not sufficient to observe changes in bird mercury levels, and more time is needed (see the report  "Using Biosentinels to Monitor Effects of Wetland Restoration for the South Bay Salt Pond Restoration Project").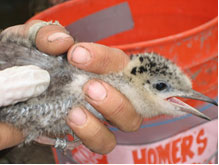 Photo courtesy of Pelican Media
How We Adapted: Restoration managers are continuing to manage Pond A5/A7/A8 with an eye to minimizing mercury impacts. The results from the USGS study indicate that periodically opening and closing the notch may be worsening the mercury effects.  Managers are now considering two options: open the gates at earlier times during the year to lessen effects to nesting terns and fish, or more preferably, simply leaving the gates open all year. 
In concert with the regulatory agencies, restoration managers opened the Pond A8 notch in early March 2014, and the notch will remain open past December 1.  USGS researchers will be studying the effects of this operation on mercury in fish and bird eggs to gain more insights.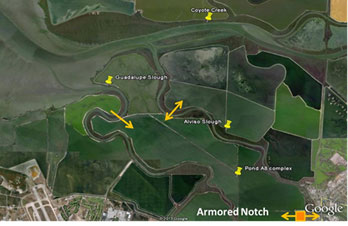 Phase 1 Studies on Fish Communities
What We Learned About Smolts: One implication of notch-opening decisions was that smolts (the "teenage" phase, so to speak) of the federally threatened Central California Coast steelhead trout (Oncorhynchus mykiss), may become trapped in Pond A8. Steelhead smolts leave San Francisco Bay for the ocean during late winter and spring, and currently NOAA asked that for the Pond A8 notch be closed from December 1 to June 1 every year to prevent steelhead smolt from becoming trapped.  However, as noted above, it appears better for all wildlife to open Pond A8 earlier in the year, or preferably all year round. 

Photo courtesy of Jim Hobbs
How We Adapted: Restoration managers are working with Jim Hobbs of UC Davis fish researchers to conduct a tagging study of steelhead smolt entering San Francisco Bay.  Researchers will set up radio antennas on the inlet and outlet structures of Pond A8, to detect whether tagged smolts enter Pond A8, and whether it leaves or is trapped in the pond. 
What We Learned About Adult Salmon: Starting in summer of 2013, managers and fish researcher began to notice that adult fall-run Chinook salmon (Oncorhynchus tshawytscha) — on their way to upstream migrations into the Central Valley — were entering pond A16 at low-tide through the outflow water control structure. Some salmon were rescued, and some perished inside the pond — ironically trapped by the inflow water control structures designed to keep them out in the first place.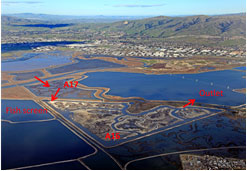 How We Adapted: Restoration managers are working with NOAA to determine management options to prevent the trapping of these migrating adult salmon.
What We Learned About Sharks and Other Species: Researchers from Jim Hobbs of UC Davis conducted fish monitoring in the Alviso Pond Complex from summer 2010 to spring 2013, collecting more than 13,000 fish across 38 different species. The majority were native species.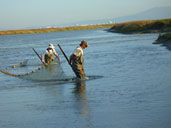 Photo courtesy of Jim Hobbs
The Alviso system is a vital nursery area for several key species of nearshore marine food web (Pacific herring and Northern anchovy), the estuarine food web (Pacific staghorn sculpin and Crangon shrimp), and winter feeding grounds for longfin smelt (see their 2013 Symposium presentation "Seasonal Variability of Fish and Invertebrate Assemblages in the Alviso").
Management Response – Monitoring of fish communities will be continued for 2014-15. The monitoring will focus on how fish are using newly restored ponds as nursery areas. For now, restoration managers have decided not to further breach levees around Ponds A20 and A21, because these closed ponds have been such productive fisheries habitats.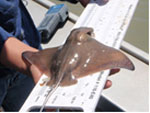 Photo courtesy of Jim Hobbs
Conclusion
The Phase 1 Applied Studies have provided managers with a wealth of information that has been essential to redesigning restorations and changing management actions. This information can be useful to other restoration projects in the San Francisco Estuary.  In addition, these studies have provided the entire San Francisco Bay scientific community insights and knowledge on the ecosystem of our bay.  As lead scientist, I look forward to continuing to work with the Science Team and the Management Team to study and adaptively managed the South Bay Salt Pond Restoration Project.
We wish to acknowledge the hard work, dedication, and scientific excellence of our Science Team members:
Josh Ackerman, U.S. Geological Survey, Western Ecological Research Center
Cat Burns, San Francisco Bay Bird Observatory
John Callaway, University of San Francisco
Collin Eagles-Smith, U.S. Geological Survey, Forest and Rangeland Ecosystem Science Center
Brian Fulfrost, San Francisco Bay Bird Observatory
Jim Hobbs, University of California, Davis
Bruce Jaffe, U.S. Geological Survey, Pacific Coastal and Marine Science Center
Mark Marvin-DiPasquale, U.S. Geological Survey, National Research Program
Dave Schoellhamer, U.S. Geological Survey, California Water Science Center
Greg Shellenbarger, U.S. Geological Survey, California Water Science Center
Darrel Slotton, University of California, Davis, Dept. of Environmental Science and Policy
John Takekawa, U.S. Geological Survey, Western Ecological Research Center
Jan Thompson, U.S. Geological Survey, National Research Program
Lynne Trulio, San Jose State University
Julian Wood, Point Blue Conservation Science